Shaktiman Ties Up With Karnataka Bank
Tirth Agro Technology Pvt. Ltd. ties up with Karnataka Bank to provide financial assistance to farmers for Farm Mechanization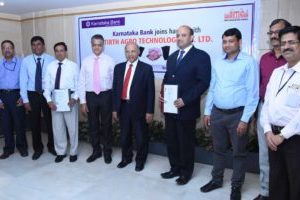 As part of its commitment towards bridging the gaps in Indian agriculture and making farmers self-reliant Tirth Agro Technology Pvt. Ltd. (Shaktiman) aims to revive, modernize, and make agriculture technology accessible to our farmers. Taking this cause a step ahead, the Company has entered into a Memorandum of Understanding with Karnataka Bank Ltd., (the Bank has a national presence with a network of 740 branches spread across 21 states and 2 Union Territories), to provide financial assistance to farmers for farm mechanization.
The farmer's need for agriculture mechanization will be identified and financial assistance will be provided to the farmers in purchasing farm machinery. On this occasion Mr. Ravi Mathur, National Sales Head, Shaktiman stated that the MoU will be instrumental in empowering our farmers and mechanising agriculture which is the backbone of Indian economy. He further added that the move is a milestone in Making Agriculture More Economical.
Managing Director & CEO of the Bank, Mr. P Jayarama Bhat told that the MoU aims to work together to promote agriculture mechanization in India by utilizing the immense experience the Bank has in Agricultural financing.
Ever since its inception Shaktiman has been a catalyst in taking Indian agriculture to the next level through its impeccable technology and farm mechanization solutions. Its dedication to empower Indian farmers by providing them world class technology at affordable price is the key reason behind its staggering growth over the years.
Tirth Agro Technology Pvt. Ltd. is a leading Indian agricultural implements manufacturer with a history of two decades. Started in 1997, at Rajkot, the company manufactures agricultural implements under the brand name "SHAKTIMAN". Company has dealership network of more than 685 dealers and 42 distributors across the country.