The Company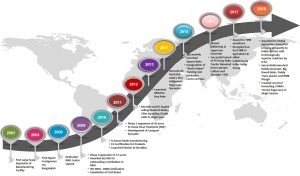 Tirth Agro Technology Pvt. Ltd. is a leading Indian agricultural implements manufacturer company with a history of over a decade. Founded by a progressive farmer late Shri Ladhubhai S. Gohil as A.G. Agro Industries in 1997 at Rajkot, Gujarat, the company envisioned to mechanize Indian agriculture completely. Initially, the company focused on the production of spare parts, but soon a complete production line of agricultural implements with the brand name of "SHAKTIMAN" began.
The Company has effectively fulfilled the needs of customers with the support of vast dealership network having more than 700 dealers and 46 distributors across the country. With our pursuit to perfection in all the spheres of the business, we have made a strong presence in domestic as well as overseas market by capturing more than 50% of the domestic market share. Our state-of-the-art manufacturing unit is equipped with advanced machinery capable of executing bulk orders with precision. We use best quality of raw material and sustainable engineering designs for manufacturing innovative implements of International standards.
As the market leader in India, Shaktiman has helped bringing Farm Tech Prosperity to the Indian farmer with technologically superior & affordable solutions.
Shaktiman has achieved the distinction of being the largest Rotary Tiller manufacturer in the World.
#MakingAgricultureMoreEconomical®