A BIG DREAM OF A SMALL FARMER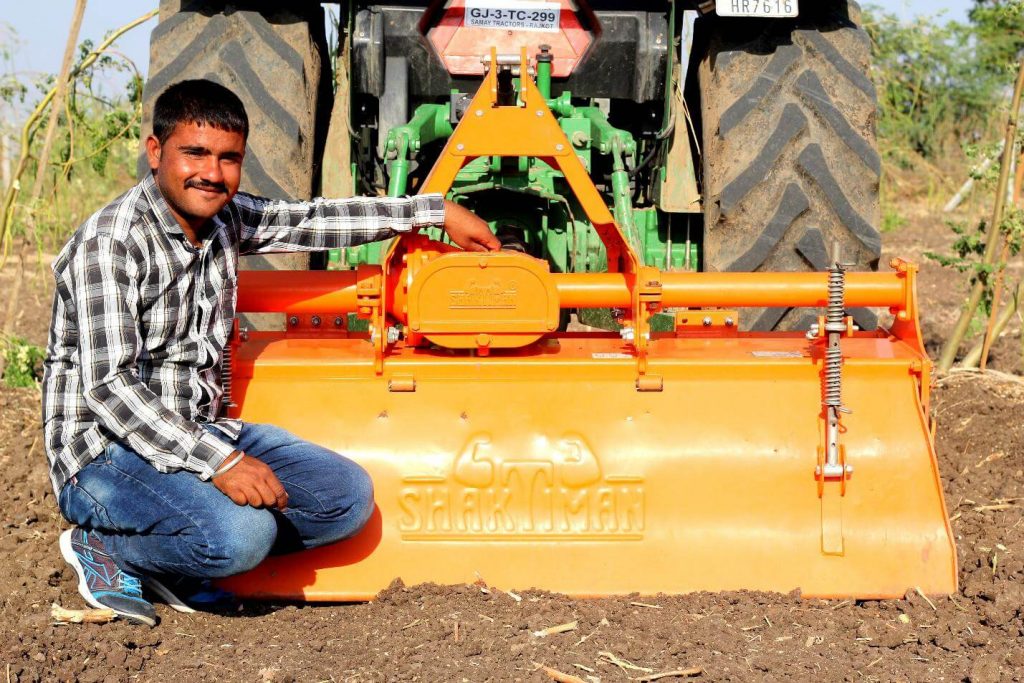 "The positive thinker sees the invisible, feels the intangible and achieve the impossible". The quote clearly underlines the passion of a common farmer who had a dream of transforming his life. We all dream but there are very few who work hard to shape their dreams into reality. Satish is among those few who took a big leap in his life and achieved what he dreamt for himself and family.
It was a bright sunny afternoon when Satish agreed to discuss his success story with us and to his generosity, he came down a long way to pick us. The first encounter with Satish was quiet impressive as he stopped by us in his brand new car at the office parking. It was bit surprising to see him in a car as the image of an Indian farmer is quiet distressful and poverty-stricken in our minds. Satish came out of the car with a welcoming smile, humbly inviting us to be seated.
We enjoyed the ride packed up with interesting conversations with Satish to his home situated in Gauridad, a small village located 25 km from Rajkot, Gujarat. On reaching his home, Satish welcomed us in his big double-story house. Satish's prosperity was a sheer testimony of the struggles he made to give himself and his family a comfortable lifestyle. His family greeted us with deep generosity. The happiness among his family members was quiet visible and Satish was an unbreakable string to which all the family members were strongly bonded.
Satish is just 25 but earns more than a white collar professional working at a top notch MNC. The story starts from the time when Satish was earning merely 1500 rupees a month. The only source of family income was his elder brother who served in Indian Army but that helped little in fulfilling day-to-day needs of the family. Realizing the disruptive situation, Satish at a very tender age of 16 thought that his family can't just continue to be hand-to-mouth and decided to bring valuable change in their lives. He himself quotes by saying, "Us waqt maine socha k itne kam paiso mein to zindagi nahi chal sakti". That was the time when Satish started thinking about avenues to change his fortune.
Satish was undoubtedly an insightful boy and with an objective of making a big difference he started thinking about new business ideas. Demonstrating the quality of a wise businessman, he sought opinion from friends, relatives, elders and family beside doing his own ground level research. After doing a good homework, Satish realized that renting out Rotary Tiller with Tractor to farmers can earn him as much as 600 rupees per hour. So the business was decided but the question was to purchase a good quality rotary tiller of a company which is trusted by the fellow farmers and well known in his village. The undisputed name which came over to him after a proper investigation about the product was SHAKTIMAN – World's largest manufacturer of Rotary Tillers. Finally, Satish's quest to start a profitable business ended with SHAKTIMAN.
Satish was encouraged by his family especially his father and elder brother who supported him financially for making this happen. Satish left his job and purchased a tractor and SHAKTIMAN Rotary Tiller. For four years, he himself use to cultivate the fields of farmers and received handful amount of rent. Now Satish has come a long way owing 2 tractors and 4 Rotary Tillers. He has appointed drivers now and just coordinates the activities over phone. Now Satish is a successful businessman and has secured a good respect among his family and friends. Satish presently owes a house worth rupees 50 lacks and financially supported his elder brother's marriage. His family is a happy family now.
Though Satish has now risen up to a fairly well-off businessman but he is still connected to the ground as he says, "main kabhi bhi kisi kisan se kiraaya nahi maangta, jab bhi unke paas paise hote hain wo mujhe de dete hain kyuki main bhi ek kisan hu samajhta hu k kisan kin pareshaaniyo se guzarte hain".
Satish gives all credit to SHAKTIMAN, as the company has supported in his early days of struggle by providing continued service and maintenance support of the product. There were times when Satish didn't had enough money for servicing his Tiller but the company provided complete support and often gave him free service. Satish acknowledge the support of the company by saying – "aaj main jo kuch bhi hun, wo SHAKTIMAN ki wajah se hun" and even wish to name his house as SHAKTIMAN by putting a billboard on top of the house. The faith and trust of Satish in SHAKTIMAN is established ever since he purchased the first rotary tiller and since then he is connected with the company because of reliable products, outstanding quality, supported with excellent service.
Satish's mother prepared great lunch for us and the family offered an overwhelming hospitality. The story of Satish is one of those several stories which were made successful with the support of SHAKTIMAN as the company endeavor to bring valuable change in the lives of Indian farmers by providing world class farm machinery which makes Agriculture more economical by increasing the productivity and income of farmers simultaneously.
Hope you've enjoyed the Success Story of Satish and have gained a lesson of perseverance in life. We will be soon coming up with more such inspiring stories ahead.
You are welcome to share your stories related to farmers, we would love to include them in our blog section.